Each year CISV International hosts over 260 programs with around 10,000 participants, leaders and staffs from all around the world. As UNESCO-partnered organization, we foster lifelong intercultural friendship, development of mutual respect and effective communication and leadership skills to building a just and fair world. Here are where CISV Boston contributed.
---
MO' PROBLEMS MO' SOLUTIONS 2019
CISV Boston hosted its first CISV program – a youth meeting for 16 – 18 years old from all around the world including Austria, Brazil, Canada, Colombia, Egypt, France, Indonesia, Israel, Italy, Japan, Luxembourg, Mexico, Norway, Slovenia, Spain and US. For two short weeks, they participated in a historic youth leadership program.
Participants: 25 youths
Staffs & Volunteers: 4 staffs + 19 volunteers that help to support the program
Total cost: $28,127.10 (+ about $1,500 in-kind donation)
---
ALEBRJIES VILLAGE 2018
Participants from Israel, Brazil, Canada, Costa Rica, Mexico, France, Italy, Germany, Norway, Portugal, Sweden and USA came together at Queretaro, Mexico to spend an amazing four weeks together as they build global friendship and learn about each other.
Our Boston delegation led by Jonathan were Hanya, Devan and Santana.
---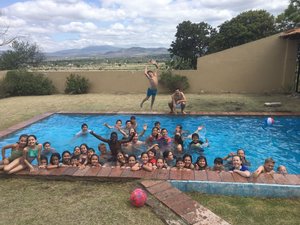 ALUXES AND CHANEQUES VILLAGE 2017
48 Youths (age 11) from Brazil, Colombia, Costa Rica, Mexico, Guatemala, USA, Canada, Sweden, Norway, Portugal, Italy, Philippines and Denmark spent their four weeks building global friendship and learning about each other. CISV Boston sent a delegation of 4 participants and 1 leader.
Click here for Daily Blog from the Camp
Our Boston delegation led by Ije were Leila, James, Mason and Marianne.
---
2017 INTERCHANGE WITH AUSTRIA/BOSTON/PHILADELPHIA
A group of 5 US participants from Boston and Philadelphia partnered up with a counterpart from Linz, Austria. For two weeks, they lived at their house – sharing their families and culture while learning more about issues of each country.
---
VILLAGE 2017 IN NORTHEAST OHIO & CHATTANOOGA
Each Program is organized and supervised by trained leaders and staffs. They are essential component as they evaluate and ensure our youths have a positive educational experience. CISV Boston sent two staffs in 2017.
---
THE HIGH HOPE – SEMINAR CAMP 2017
Twenty-nine Youths (age 17/18) from Egypt, Italy, Iceland, Norway, Sweden, USA, Canada, Colombia, Spain, Germany, Turkey, India, Indonesia, Finland and Brazil participated in a three-week seminar camp where they develop global leadership, responsibilities and self-awareness. CISV Boston sent a leader to be the program director.